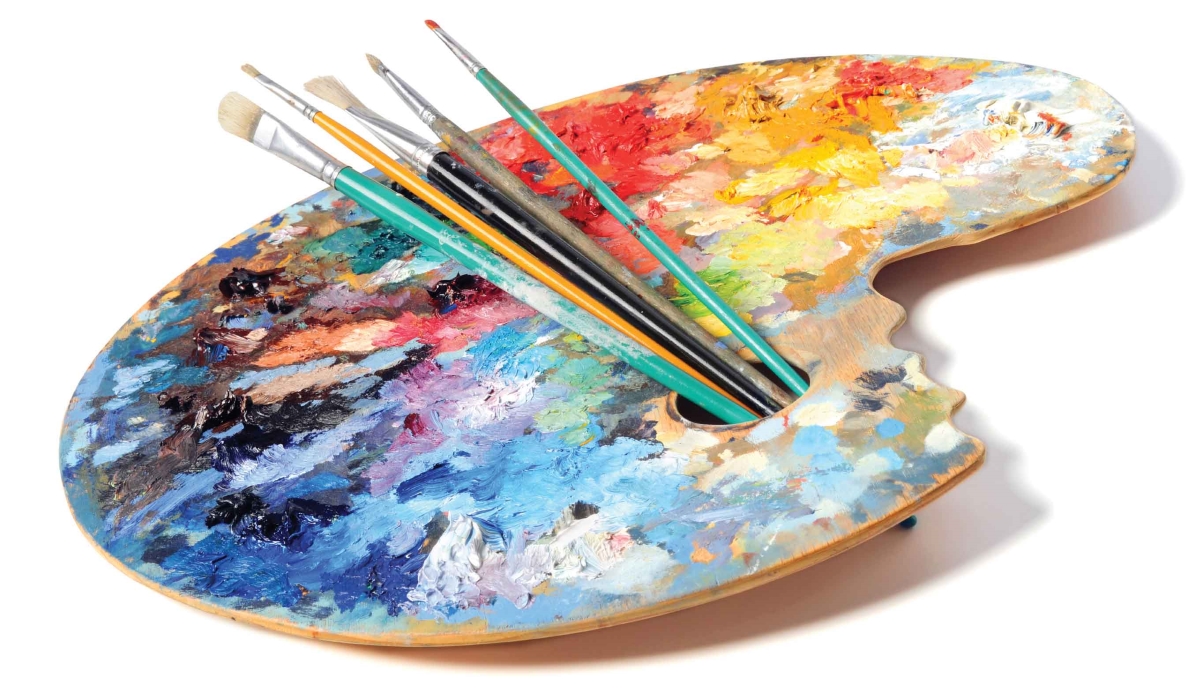 Many companies still struggle with the art of their digital start. They know they need to innovate, take risks, and help the business enjoy the value of a digitised enterprise. But how do they get to the digital start line? What goes into their strategic roadmap that sets them up to launch and celebrate new digital services in 90, 60 or even 30 days? What is the art of their digital business transformation start? And how do they differentiate between digital change and digital transformation?
Executives leading digital transformation also need to take an entrepreneurial approach, but that's not always easy in an established organisation where employee numbers run into the thousands, tens and hundreds of thousands. Places where the words, "these are our ways of working", ring loud in the ears of innovative folk who dare to be different.
The establishment of innovation incubators is one approach that sections (protects) the innovative and entrepreneurial spirit of the organisation from the potentially damaging effects of policy, process, and bureaucracy that some use as weapons to stifle transformation, to protect their personal interests, ahead of those of the company.
Tools Designed for Transformation
In the way that brushes and paint enable artists to create art, IT leaders have used tools such as COBIT, ITIL and CMMI to run traditional IT operations. But this operational tool box was not designed to create transformation. So tool boxes needs to be updated with a new set of transformation tools that can create new masterpieces.
The beauty of the latest digital business transformation tools is that they are designed to help facilitate collaborative journeys between the business and IT. Journeys that replace the tensions that have traditionally existed between the two. Anything less than a collaborative approach will eventually haunt teams with the same fallout that became synonymous with ERP initiatives, and which countless companies struggled with for years.
IT and business folk traditionally speak with different terms and priorities, but during their digital business transformation journey together, they need one language that enables them to work together as one team. So leaders have a responsibility to foster environments where "them and us" attitudes become a thing of the past, and where they orchestrate a transformation performance in which teams from IT and the business sing in tune from the same song sheet.
To help do this, leaders need to select the right transformation tools. Tools that are not simply about technology, but tools that are designed for digital business transformation, such as THRIVE.
Six Steps to a Digital Roadmap
There's more than one way to bake a cake, and as good leaders will agree, transformation is more about guiding principles that rules. The steps below are one way to forge a collaborative digital business transformation journey towards establishing a roadmap, and they leverage THRIVE. After introducing the six steps, we will take a closer look at the quick-wins that should become the early milestones on an multi-year digital business transformation roadmap.
Step 1: Digital capabilities assessment
As an initial step, the company needs to understand what the current maturity levels of its transformation capabilities are, and what they need to be, if there is to be a realistic chance of transformation success. This is about facing up to shortcomings and taking action to address them, and avoiding being one of the 70% of transformation failures. No sailing team would dream about sailing around the world without the right team on board, and transformation leaders need to apply the same principle to their transformation adventure.
Step 2: Establish digital Use cases for your industry and capabilities
Technology plays a key role for all six Digital Capabilities (enablers and goals) but the use of each technology has a different impact on the maturity level of the Digital Capabilities. Based on the results of the digital maturity analysis, relevant Digital Use Cases need to be defined.
Step 3: Benefit analysis of the use cases identified in step 2
Once you have defined your digital use cases, the impact of the transformation needs to be analysed and each digital use case will help you do this by illustrating why your company needs to change, and why now. Understanding what can happen if the company does not change now, is also a key component of this step.
Your digital use cases need to be classified according to their impact and the nature of their business and organisational changes. Some potential changes will solve problems, and some will provide innovative ways of leveraging new capabilities or opportunities.
Step 4: Understand your priorities
Every digital use case will provide different benefits to your organisation, some of which will have enormous impact, and some that will help you solve minor issues. These all need to be prioritised by your team in order define the priorities for your digital transformation.
Digital use cases that require little effort but deliver significant business benefits should be seen as quick-wins that can be realised rapidly, while those requiring significant implementation effort but with minimal business benefit should be sidelined – at least for now. Digital use cases that are easy to implement but do not provide significant business benefits should only be realised if the resources are available and not required for a transformation initiative of higher priority.
Digital use cases requiring significant implementation effort but also providing significant business benefits are key cases that require extra special transformation planning and execution.
Step 5: Create an implementation roadmap based on your priorities in step 4
After establishing a clear understanding of the benefits of your individual digital use cases, it is time to define your digital transformation roadmap, which needs to be agile enough to cope with future digital change. Consider a strategic timeframe to establish your roadmap duration, then map the digital use cases that are candidates to develop into business cases, and then projects or programmes.
Depending on the outcomes of the previous steps, your roadmap could well be made up of digital use cases that will deliver business value, and support the realisation of the company's overall strategic objectives.
Designing your roadmap will require input from a broad set of stakeholders so be sure to invite them to your workshops.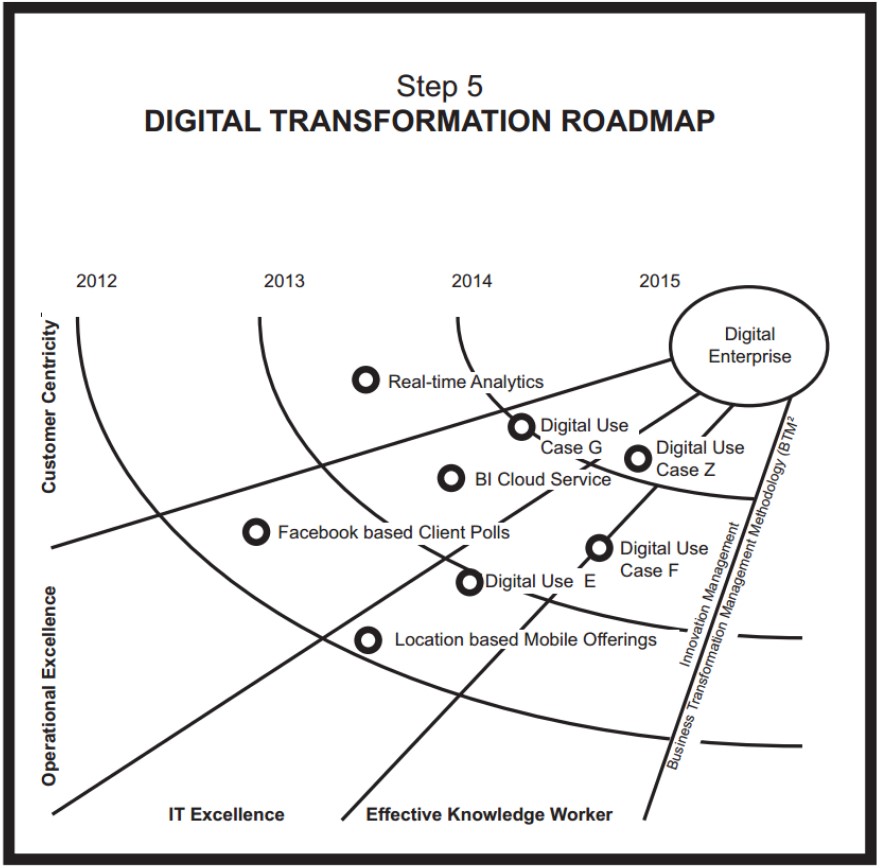 .
Step 6: Establish a business case for 3-5 years of implementation
Developing a business case helps stakeholders decide whether to invest resources in your initiatives and you should take full advantage of knowing your company's strategic priorities very well. This will serve you particularly well when presenting your case to those responsible for ensuring those strategic priorities are achieved. Potential tangible and non-tangible benefits need to be included.
Quick Digital Wins
Some executives are struggling to figure out how to deliver agile, innovative, digital services quickly. Most of them know the long, slow drawn-out projects and programmes of the last two decades. Digital quick-wins call for something entirely new. But how?
Let's rewind back to step 4 above, "understand your priorities". The transformation team (IT and the business) would typically be getting fired up and excited about the prospects that digital transformation holds in store for them. But this is where some serious questions need to be asked about the early milestones on the roadmap.
Remember that Mode 2 of bi-modal is about speed, and it's vital that people are set up to build and launch something quickly, something they can celebrate early, and something that injects them with even more enthusiasm for the long road ahead. Early victories will also have stakeholders sitting up in their chairs surprised, after becoming accustomed to technology projects that take months and often years to deliver any value. So the quick wins on the roadmap are vital. Wins that are made up new digital applications – not simply a bunch of plans, documents and aspirations.
A Closer Look at Step 4
Step 4 above involves business priority assessment, but it should also consist of other considerations that help position potential initiatives in an appropriate position on a matrix such as the one below.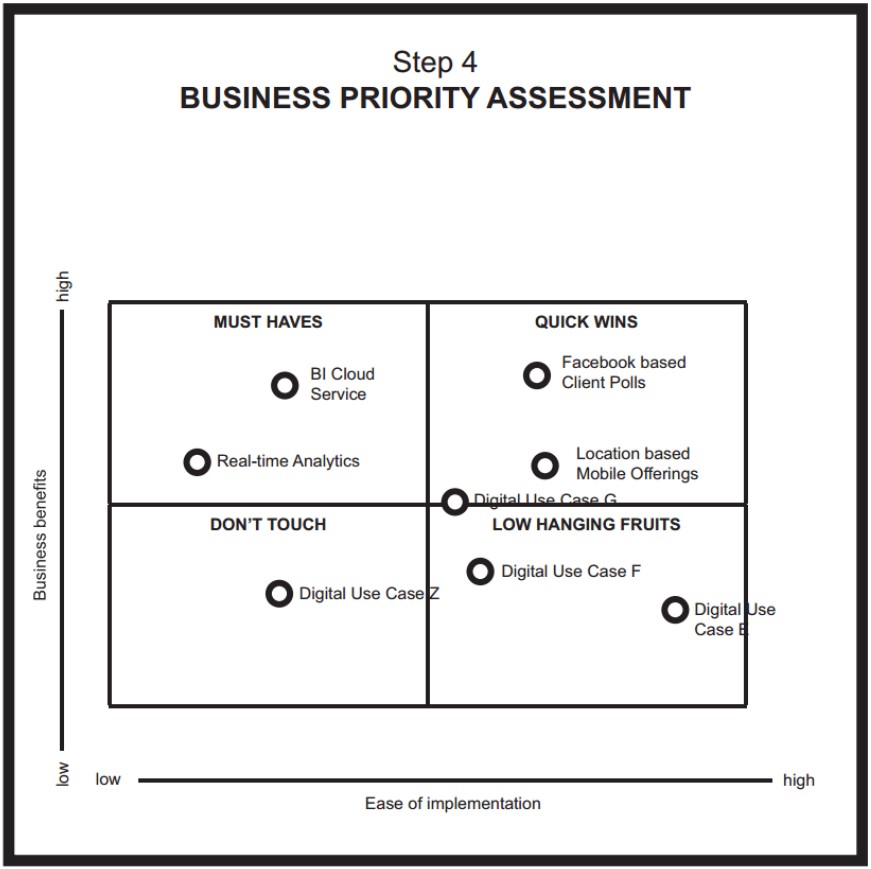 .
With the business needs addressed, it's important to consider what digital initiatives are a feasible fit for a rapid launch. Below is a list of eight from Mendix.
1. Can it go live within 30 days?
2. Would it be highly visible and deliver direct business value?
3. How will the business needs to be involved? (Already addressed in earlier steps)
4. Would the application have limited external dependencies?
5. Are the odds of wanting to take the application into production high?
6. Are the requirements not completely specified?
7. Is it something you tried but failed to build it in the past?
8. Is the application multi-channel?
Take a more in-depth look at each of the eight considerations above and read Roald Kruit's article on why your digital transformation can't boil the ocean.
The illustration below shows how digital quick-wins can play an early role in the grand-plan of digital enterprise transformation.
.
As mentioned earlier, transformation is more about guiding principles that rules. Discover the six guiding principles of THRIVE Digital Business Transformation.
Read Digital Art: The Masterpiece – Where New Talent Meets New Tech