Your Independent Trusted Advisor
HELPING LEADERS GET DIGITAL TRANSFORMATION DONE RIGHT

Join Thousands of Transformation Leaders Who Read CXO Weekly

Rob Llewellyn has been trusted by some of the world's most transformational brands
Over 20 years of experience in over 20 countries
Empower Yourself With THRIVE Digital Business Transformation Principles
The best leaders understand the importance of the guiding principles which Stephen Covey introduced to excel in traditional leadership. The challenges and opportunities of the digital economy now call for an additional set of principles to survive and thrive.
THRIVE Guiding Principles
Transformation
Holistic
Response
Innovation
Value
Enterprise
Get Free Training Videos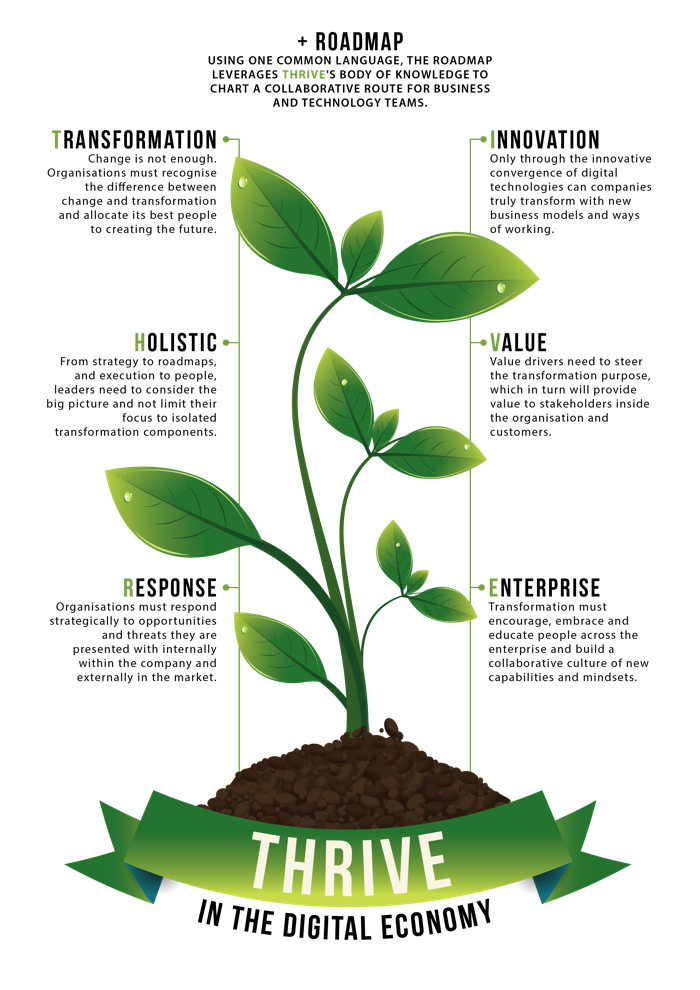 Is now the time for you to orchestrate your very finest digital transformation performance?
Rob Llewellyn can help you achieve transformation excellence and your career highlight by providing you with impartial and world-class guidance that will enable you to perform at your best.
Ready to be different?
Separate yourself from the executives and senior managers who will unintentionally lead 70% of transformations to failure by 2020.
Contact Rob Llewellyn
Don't Be Another Statistic
Gartner predicted that by 2020, 75% of businesses will be digital, but only 30% of those efforts will be successful.
McKinsey wrote that just 26% say the transformations they're most familiar with have been very or completely successful.
IDC predicted that by 2018, 70% of siloed digital transformation initiatives will ultimately fail.
Genpact wrote that only 30% align technology or analytics with business outcomes well or extremely well.
If you have a troubled transformation portfolio, programme or project, let Rob Llewellyn help you silence the noise, pacify your stakeholders, and get things back on track. And avoid becoming one of these unsavoury statistics.
Schedule a call
About Rob Llewellyn
Rob is the founder of CXO Transform and an international digital business transformation advisor who has operated as an independent professional since the 1990s. Working across the C-suite and senior management teams, he has consistently helped organisations take commercial advantage of technology.
Trusted - Independent - Impartial
In 2014 Rob was awarded Global Business Transformation Master status by SAP as a trusted C-suite advisor, and is invited by SAP to orchestrate complex transformation on their behalf.
Having enabled some of the world's best known brands to get transformation done right, he is repeatedly called upon by global consulting firms and digital service providers to assist on strategic client accounts and mature their own transformation practices.
Rob is the creator of the THRIVE digital business transformation framework and training programme, a key note speaker at digital transformation conferences, and co-authored a digital disruption book published by Springer in 2016.
Contact Rob
...and dozens of others around the world
A Short Selection of What Some Say About Rob...
Having worked with Rob, I have no hesitation in recommending him. His management skills are second to none, with clear focus and the skills needed to get things done. He also has first-class people skills which make others around him want to get the job done too.
- Aaron Powell, Chief Digital Officer at NHS Blood and Transplant
---
I worked with Rob in the Middle East on a change management assignment and continue to this day to be impressed with his transformation management skills and international business acumen. He is a highly organized, inspiring and motivated executive who has a laser-sharp focus on getting to positive results.
- Gabriel Schild, Executive Consulting Partner at Verizon Enterprise Solutions
---
Rob was the Program Manager in a major transformation for a client in the Middle East; the activity was challenging due to the short time frame of the program and cultural aspects involved, however Rob did a great job managing the relations with different stakeholders, senior management and ensuring the delivery team with the right conditions to perform effectively. It has been a pleasure to work with him.
- Diego Prina, Management Consultant at PwC
---
Rob and his team of associates led the transformation of the Abu Dhabi Education Council (ADEC) virtualization programme. The programme management expertise that his firm brought to us was a major success factor in ADEC's ability to transition from an out-dated server room to a state-of-the-art data centre in less than six months.
- Walid Nsouli, Programme Manager at Abu Dhabi Education Council
---
Rob made a great contribution to one of our most critical and challenging programmes in Musanada by drawing on his immense knowledge and experiences to construct a comprehensive and detailed plan, and making sure that we all stuck to it. He handled the inevitable dramas with calm professionalism and clarity of thought - always finding a way through them. He was also a highly energetic and popular team player who found time for everyone.
- Jon Kidd, Former CEO at Musanada
---
Rob has a wealth of experience of delivering complex transformation programmes while providing the necessary leadership skills to inspire all those working with and for him. He always acts in a calm and professional way but is highly driven. He was a major loss to our team. I would not think twice of recommending him
- James Cusworth, EMEA Programme Manager at Hewlett-Packard
---
Rob has been an excellent point of contact for various subjects for me but the core items that make Rob stand out from the crowd are the following; he has an innate ability to listen patiently to people's needs and requirements, making him an excellent peoples person. He is capable of turning around a problem very effectively with sound solutions.
I was fortunate to sit in on his programme workshops whilst at Musanada and found the sessions to be incredibly engaging and interesting. Rob is passionate about customer focus. He is dedicated to his work from the inception of a project to the completion stages.
- Tashfin Shafique, Managing Director at Emerge
---
Rob is a detail-conscious programme and project manager. Having seen him operate in a very challenging environment, I can say that his mediation and consensus-building skills are of the highest order. He is outcome focused and completely dependable. I am happy to work him on any project.
- Bill Edwards, Managing Director at CS Transform
---
I have no hesitation is recommending Rob as a Transformation Manager - we met over LinkedIn and I then had the opportunity to meet in Abu Dhabi (whilst working at Injazat) and in Dubai (at the Best Practice User Group). Rob is always keen to put back into the community what he has learned.
- Mike Ward, Consulting Director at RSM