What is the Digital Capability Framework?
The Digital Capability Framework (DCF) is essentially a digital transformation framework designed to help companies innovate and orchestrate digitally enabled business transformation. It helps companies analyse their current situation and identify new business cases, which are enabled by technology trends.
Addressing both the technical and people side of transformation, this digital transformation framework enables transformation leaders to obtain clarity about what maturity level their organisation has in terms of six digital capabilities, what maturity level they wish to achieve, and how they plan to do that. Digital use cases help them develop a clear picture of the processes to be optimised and the technologies that should be used; and a tailored plan to transform the organisation into a digital enterprise can then be established and implemented.
Digital Capability Framework Building Blocks
The DCF consists of the following four building blocks:
1. Digital Capabilities are the key skills and capabilities a company requires to transform itself into a sustainable and successful business by considering digital technology as the enabling component.
2. Digital Capability Maturity Models are the structured assessments used to evaluate the Digital Maturity of an organisation.
3. Digital Use Cases provide ways of showing how to reach specific goals, which will enhance an organisation's Digital Capability. They typically show how organisations in specific industries can gain competitive advantages through digital transformation.
4. A Digital Transformation Roadmap provides six steps to proceed to a Digital Enterprise Transformation.
A Strategic Digital Transformation Framework
The DCF helps digital transformation leaders such as the CIO take a structured business orientated approach to transformation, which gives rise to closer collaboration between IT and the Business and increased stakeholder confidence.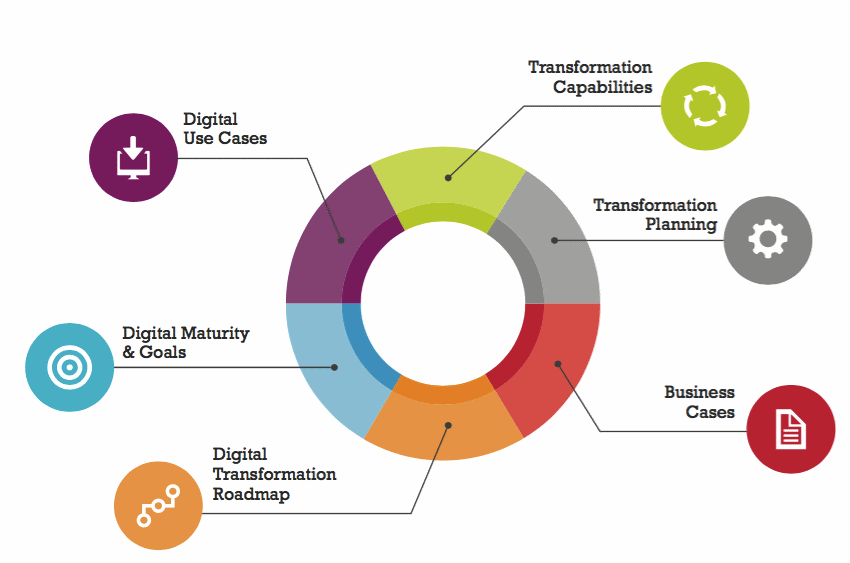 Holistic and integrated transformation management, which is underpinned by strong business cases and transformation capability, are just some of the advantages of leveraging the DCF. This facilitates greater return on investment and competitive advantage – all of which has been driven by the likes of the CIO.
Free Digital Capability Framework Download
Download this short guide to the Digital Capability Framework.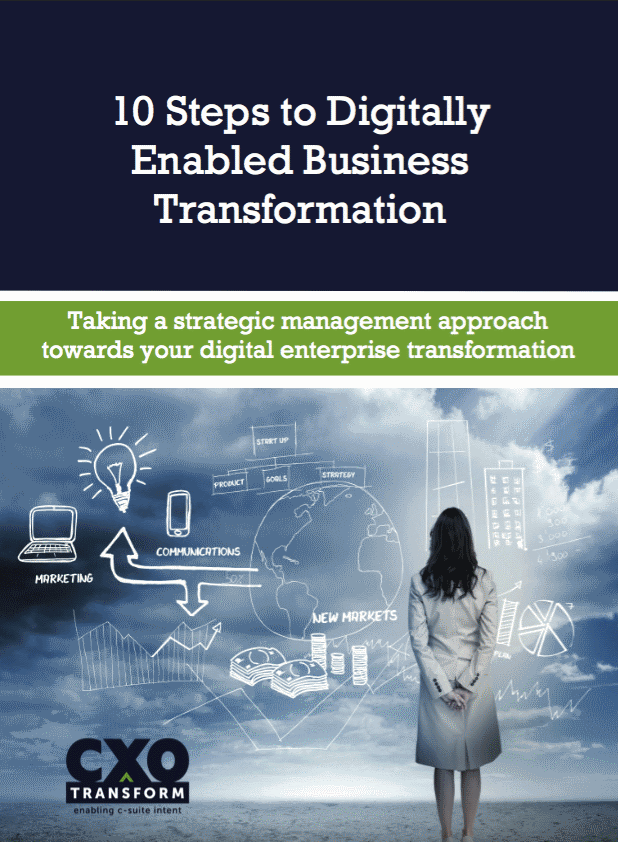 Where The Digital Capability Framework Came From
The Digital Capability Framework (DCF) is independent of any technology type and is the result of extensive research and collaboration between SAP Business Transformation Services and their partners from academic and business arenas throughout the world. It is a digital transformation framework that can be adopted and deployed by any company regardless of industry.
Where Can I Find Certified Digital Capability Framework Experts?
The Digital Capability Framework (DCF) was made available to the public domain in 2014 and DCF certification is not currently available. However, an integral component of the DCF is the Business Transformation Management Methodology (BTM²) which is accompanied by two levels of certification:
Business Transformation Program Manager (BTPM)
Global Business Transformation Master (GBTM)
Both Business Transformation certification tracks are available through the Business Transformation Academy.
There are approximately 1,000 certified BTPM practitioners and 300 GBTM practitioners in the world. Many reside inside companies such as SAP Business Transformation Services, CXO Transform, Daimler, IDC, Samsung, DHL and Unilever.
Who Uses The Digital Capability Framework?
Companies such as Unilever, SAP, DHL and many others have used the Digital Capability Framework.
Read How DHL Freight Leveraged The Digital Capability Framework
Read How Unilever Leveraged The Digital Capability Framework
Where Can I Learn More About The Digital Capability Framework?
1. Read this Digital Enterprise Transformation Book Review then buy the book
2. Read 10 Steps to Digitally Enabled Business Transformation
Listen to Rob Llewellyn introduce the Digital Capability Framework.

Also learn about the THRIVE Digital Transformation Framework
Buy Digital Enterprise Transformation – a book by Axel Uhl, Lars Gollenia which describes the framework in detail.