THRIVE Digital Business Transformation
THRIVE is a practical digital business transformation framework, which provides leaders with a body of knowledge and roadmap to help them independently lead their transformation. It serves as a holistic guide to maturing internal capabilities and mindsets, responding strategically and innovatively to market threats and opportunities, delivering new value to the market and satisfying the expectations of internal stakeholders through successful execution.
Learn about THRIVE training and certification
THRIVE is not related to any one technology or industry. It is a way of thinking of, and approaching transformation from a business perspective. It helps leaders approach business transformation from all angles, and not be blinkered by digital marketing hype or specific technologies.
We know from Stephen Covey that values govern people's behaviour, but principles determine consequences. So in the way that Covey encouraged us to utilise key leadership principles, so THRIVE is intended to encourage leaders to utilise six digital business transformation principles to equip themselves for the digital economy challenge.
THRIVE is an acronym made from six words which are: Transformation, Holistic, Response, Innovation, Value, and Enterprise.
T: Transformation
H: Holistic
R: Response
I: Innovation
V: Value
E: Enterprise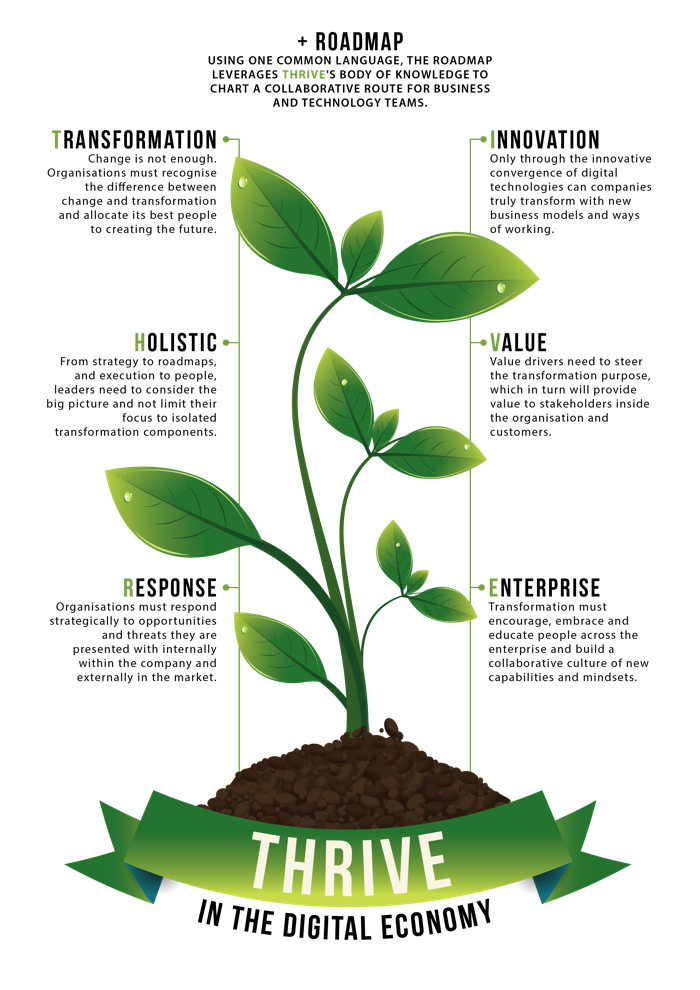 THRIVE lends itself well to the transformation education process. Its simplicity through core principles, and comprehensiveness through content, makes it an incredibly effective executive education tool. A tool that will become increasingly valuable to any company with aspirations to thrive in the digital economy.
It's key to every organisation's future because when you adopt THRIVE, you adopt the fundamental principles required for digital business transformation success.
THRIVE helps connect the dots in a simple and coherent manner so you can answer the key questions that are relevant to your organisation's ambitions to innovate, digitise and transform – and ultimately THRIVE in the years ahead.
It helps leaders and senior managers upgrade their ability to innovate, digitise and transform their companies to be highly competitive in the digital economy – in the face of disruptive innovation.
"Since the recent surge in self-proclaimed transformation experts, organisations are now wanting to know who has had their level of transformation management expertise independently assessed. Those with certification will separate themselves from the crowd."
– Rob Llewellyn
Spread the word – share this post
Most Recent Posts