Transformation Management Capabilities
Transformation management roles are different from operational management roles and they require distinct functions and capabilities. While it's vital that transformation capabilities are not compromised, research shows that despite good intentions and top performing operational teams and managers, only a third of corporations prove that they have the capabilities required to achieve a successful transformation.
Three Formal Management Roles
Figure 1 below shows the three levels of a transformation initiative and the three formal management roles acknowledged by the Business Transformation Management Methodology BTM² (the Executive Steering Committee is not discussed in this post):
Business Transformation Managers
Programme Managers
Project Managers
These three roles and their associated capabilities are described below.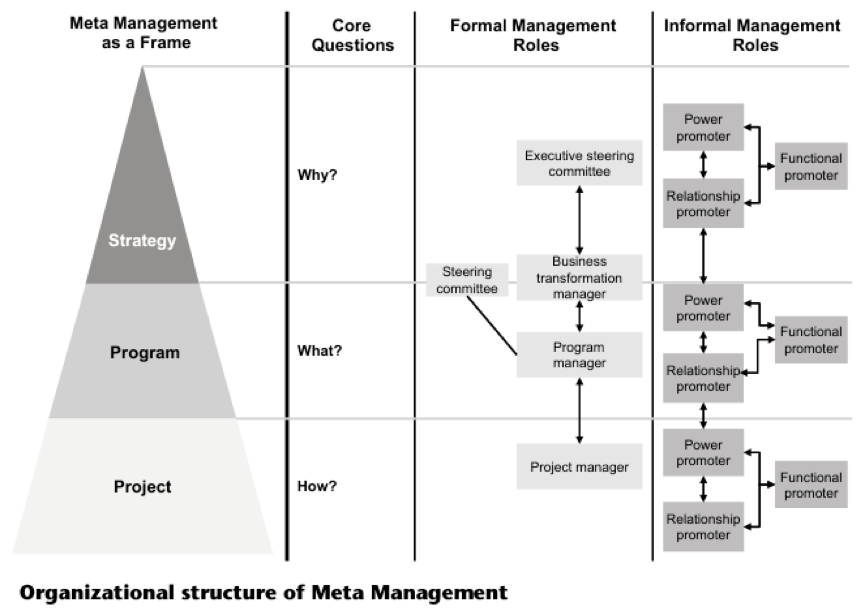 Business Transformation Managers
Organisations should appoint a Transformation Manager who has the ability and authority to manage the overall transformation and act as a key advisor to the Executive Steering Committee. Besides managing the vision and the value of the transformation, the Transformation Manager needs to be empowered to make strategic decisions in consultation with the Steering Committee during the whole life of the transformation. While the Transformation Manager will depend heavily on the Programme Manager, ultimately, both are responsible for turning the transformation strategy into reality and achieving the outcomes agreed with the Executive Steering Committee in the business case.
A solid Transformation Manager will have a good grasp of a Transformation Management Methodology – such as BTM². They would be able to leverage a proven framework that can be used as a guide to achieving transformational success. Frameworks such as BTM² can increase the odds of a successful transformation by avoiding typical scenarios fraught with schedule setbacks, compromised quality, scope, and value, and blown budgets.
To take full advantage of BTM², every effort should be made to secure highly capable individuals who can orchestrate the nine management disciplines of BTM² and facilitate the capability, culture, and environment required for a strategy to be successfully transformed into reality.
One of the most critical decisions for the Transformation Manager is selecting the right Programme Managers. The wrong choice can easily set the wheels in motion for a very painful journey ahead.
Programme Managers
A capable Programme Manager should have at least five to ten years of experience as Programme Manager, and they will be able to leverage programme management best practices. These requirements should go hand in hand with the ability to build a bridge between strategy and realisation. The Programme Manager has to make sure that all activities remain focused on achieving the predefined outcomes which were aligned with the strategic objectives. Governance, management control, resource and financial planning, risk management, and stakeholder engagement are all key components of the Programme Manager's responsibility. In order to be successful, Programme Managers must have exemplary soft skills as well as commercial and political acumen.
A common and often fatal mistake is putting a Project Manager in the role of a Programme Manager, since the two roles require a very different set of skills. Testing a Project Manager out as a Programme Manager in a high profile transformation is foolish. Transformation is expensive and it shouldn't be treated as a training ground for roles that are fundamental to the success or failure of the initiative.
Programme Managers have a greater breadth of responsibilities than Project Managers and are responsible for the set-up and day-to-day management and delivery of the program on behalf of the Business Transformation Manager. Programme Managers oversee multiple projects, are accountable for achieving program outcomes, and are likely to work with stakeholders across the broader organisation. Their focus is on high-level specification (of why and what), stakeholder management, benefit realisation, dependency management, transition management/change acceptance and integration with business strategies.
If corners are cut and programme management capability is compromised, unnecessary risks are created. In such cases, programmes often struggle and get out of control after three to six months. This is then often addressed by getting an external Programme Manager or Transformation Advisor in to recover the situation, get things back on track, and rebuild stakeholder confidence.
Project Managers
Project Managers are responsible for the project, the project team, and the products the team is working on, and typically operate cross-functionally. They are the single point of contact for day-to-day management of a project and their focus is often narrower and deeper than that of a Programme Manager's as they need to focus on detailed specification (of how) and control of activities to produce products.
Most organisations understand well the responsibilities of a Project Manager, of which there could be many, depending on the nature and content of the transformation. Typically, a Project Manager will plan, manage, execute, and close a project to deliver the project outputs as agreed with the Programme Manager.
Upgrading Capabilities
Management roles in transformations are different from management roles in business operations and they require distinct functions and capabilities. Skimping on the right capabilities in transformation initiatives often results in money, time and credibility being swept away.
As with many professions, it can take five to ten years to acquire the capabilities and experience required to manage complex components of transformation. While this involves years of hard work, foundation level digital business transformation management training can help experienced managers and leaders complement their operational backgrounds with new transformation capabilities and knowledge.
Transformation Management Certification
Ensuring key transformation managers have appropriate experience and certification is one way of building a solid foundation for your transformation organisation. The project and programme management professions have used certifications for years, and now the transformation management profession is following suit.
Not only will new knowledge help managers perform at their best in a transformation environment, but being certified in transformation management can also open new doors. Acquiring a digital business transformation certification will verify to hiring managers and executives that your transformation expertise has been validated.
Becoming certified in digital business transformation management will:
Reassure executives that you have a solid understanding of transformation
Help you earn credibility and respect in your field
Separate you from the 95% of non-certified transformation peers
Ensure you acquire new knowledge required for certification
Open more opportunities for advancement
Increase your earning potential significantly
Prove your willingness to invest in your own development
Demonstrate your commitment to your profession
Improve your internal audit skills and knowledge
Build confidence in your knowledge of the transformation profession
Learn about THRIVE Digital Business Transformation Management Certification
Spread the word – share this post
Most Recent Posts