Digital Business Transformation Iceberg Ahead
The Digital Business Transformation Iceberg uses Sigmund Freud's iceberg analogy to illustrate how the conscious mind of digital leaders should be focused on far more than the tip of the digital iceberg. The alternative might be likened to the disaster that struck the mighty Titanic on its maiden voyage in 1912.
Beware The Digital Business Transformation Iceberg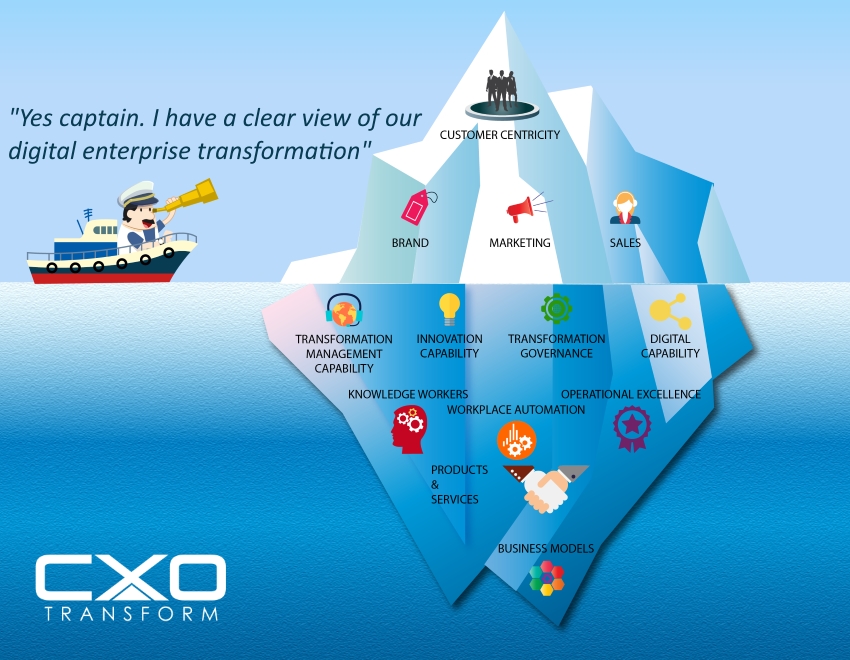 The digital business transformation iceberg is designed to encourage leaders to look beneath the surface, and approach digital enterprise transformation holistically. It helps leaders approach digital business transformation with an open mind and primed to answer the question "what should we transform?"
It's worrying when some suggest the CMO should be leading digital, unless of course the CMO is expected to be sufficiently equipped and prepared to address all that sits below the surface of the digital iceberg too.
Digital Business Transformation Tools
There are multiple transformation tools available to help leaders consider the bigger picture of digital business transformation. Regardless of which are used, a priority is to remove any blinkers that focus a firm only upon the customer – and transformation tools can help ensure that happens.
Even when customer centricity at the tip of the iceberg is deemed to be a firm's strategic priority, the four components that sit immediately below the surface all need to be sufficiently mature, if digital business transformation initiatives are to be successful.
It's important to note that the primary focus needs to be on the business, as opposed to specific technologies. After all, any business should be focused upon its strategic business objectives, and how the innovative use of all available technologies can be used to help achieve those objectives. Getting hung up on using a particular technology for the sake of a technology trend is something that all CEOs should look out for.
Below are three transformation tools that can help leaders consider their digital enterprise transformation more holistically.
Building Block One Of The Digital Capability Framework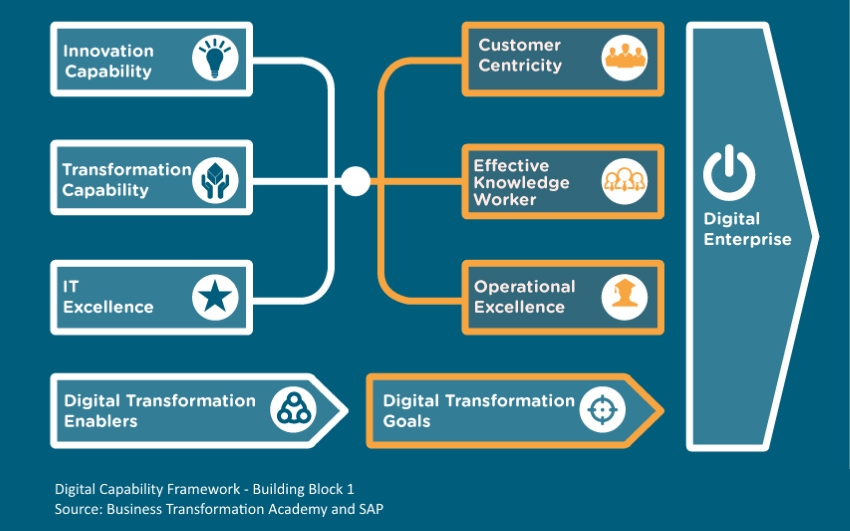 Read more about the Digital Capability Framework
---
The Digitization Piano
Read more about the Digitization Piano
---
The Digital Organizational Design Framework
Read more about The Digital Organizational Design Framework
---
Digital Business Transformation Navigation
As with GPS tools that help us get to where we need to be, there are numerous digital business transformation tools available. What is key, is that leaders adopt tools that will ensure they see beneath the surface and avoid the same fate that saw the demise of the mighty Titanic back in 1912.
.