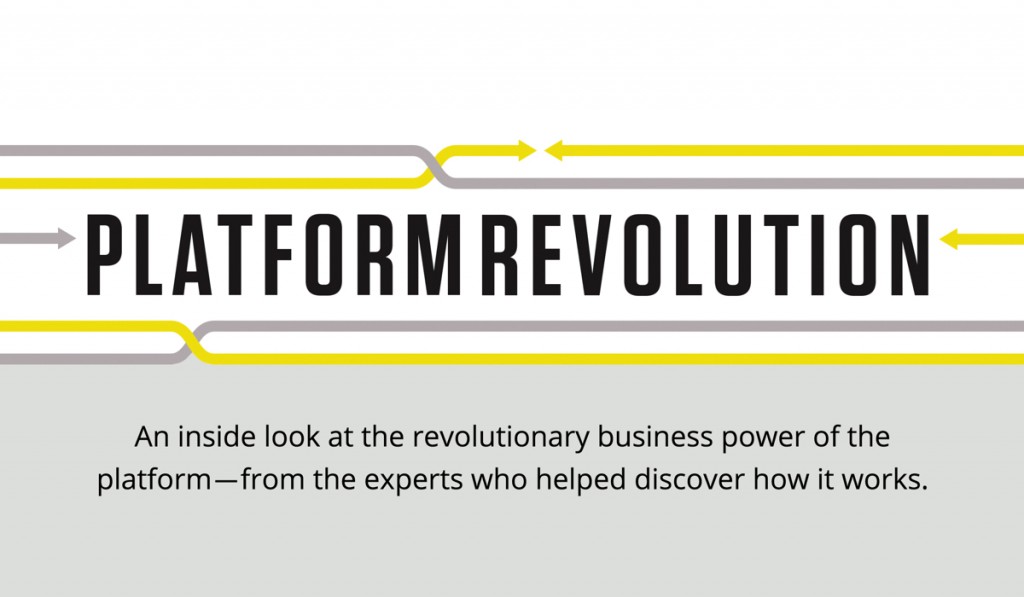 Platform value is key to the digital economy, and in a new book called Platform Revolution, authors Geoff Parker, Marshall Van Alstyne and Sangeet Choudary provide a manual for creating a platform marketplace.

In the book, Geoff, Marshall and Sangeet do their best to provide the first clear, reliable guide to one of the most important economic and social developments of this era The Platform – as a business and organisational model.
If leaders are to leverage the power of platforms, they need to be able to comfortably navigate the waters of platform-based businesses. So in writing Platform Revolution, the guys set out to solve a series of puzzles posed by the rapid rise of the platform model. Puzzles such as:
How can platform business outcompete traditional companies while employing a fraction of the employees?
How have the likes of Uber and AirBnb disrupted entire industries within just a few years of starting up?
How have platforms transformed the principles of competition and economic growth?
How and why have some leaders led their companies to failure through their poor use of platform business models?
These and other fundamental questions are explored by the authors in over 350 pages.
While Uber, Facebook, PayPal, and Alibaba are seemingly very different companies, they have all successfully harness a single phenomenon: the platform business model. So have many others, across many industries.
Platform Revolution delivers the first comprehensive analysis of how platforms use technology to match producers and consumers in a multisided marketplace, unlocking hidden resources and creating new forms of value. When a company like Uber connects drivers with passengers, everybody wins- except traditional taxi companies, which are scrambling to survive. Assumptions about operations, finance, strategy and innovation all change.
Revealing the strategies behind some of today's rising platforms, the authors explain how entrepreneurs-and traditional companies- can thrive in this new world. In cases as diverse as shoes, spices, dating, energy, home appliances and education, Platform Revolution provides the essential guide to unlocking the potential of an economic landscape transformed.
Introducing the 12 Chapters of Platform Revolution
Chapter one starts with TODAY and serves as a welcome to the platform revolution.
Chapter two NETWORK EFFECTS, looks at the power of the platform, and what factors create network effects on the platform.
Chapter three is about ARCHITECTURE and the principles for designing a successful platform.
Chapter four addresses DISRUPTION and explores how platforms conquer and transform traditional industries.
Chapter five is about THE LAUNCH, and looks at eight ways to launch a successful platform while beating the chicken or egg dilemma.
Chapter six is about MONETISATION and capturing the value created by network effects. The big question "Where is your money coming from?" is addressed here along with the how much, who, what and when questions around platforms.
Chapter seven explores OPENNESS and suggests what platform users and partners can and cannot do, along with who should get access and who should not? And What, if any, are the barriers to entry?
Chapter eight is centred around GOVERNANCE and suggest policies to increase value and enhance growth. It addresses questions such as Does the platform have a clear plan for governing user behaviour? And what is the strategy for managing the distribution of incentives across all parties participating in the platform?
Chapter nine looks at METRICS and how platform managers can measure what really matters.
Chapter ten is about STRATEGY and how platforms change competition.
Chapter eleven looks at POLICY and how platforms should and should not be regulated. Here the authors look at the legal and regulatory aspects that should be factored in while governing distributed producer bases and their data?
And the twelfth and final chapter in the book is about TOMORROW – the future of the platform revolution.