3 Steps to Comprehend Your Enterprise Digital Footprint
It is difficult to set the direction of the future's digital organization and to comprehend and choose which present and future technologies (Mobility, Cloud Computing, Social Media, Crowd-sourcing, Internet of things, Industry 4.0, Big Data, 3D printing) will bring the most extreme returns for your association.
Here we will dive down more into the first step to comprehend what it takes for an association to turn into a beneficial digital enterprise endeavour?
The answer is to assess your digital capability using Digital Capability Maturity Models.
The Digital Capability Maturity Models are supported by a set of assessment tools which allow for the evaluation of the company's situation compared to leading (digital) companies.
Step 1: Understand 6 holistic capabilities for digital footprint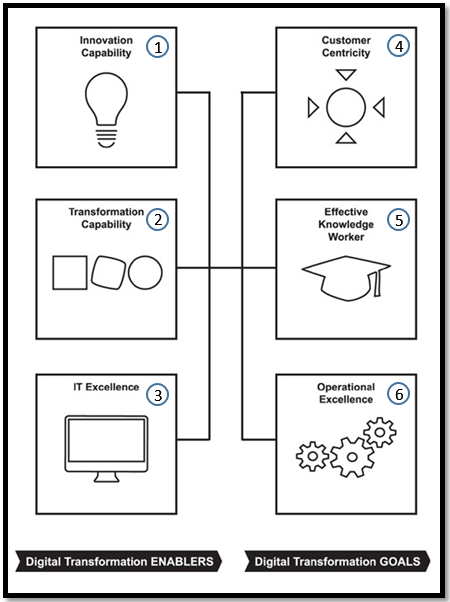 The first category is called Digital Transformation Enablers – The Digital Transformation Enablers are not the initial reason why a company wants to transform into a Digital Enterprise, rather, they build the stable basis required to enable the transformation.
Innovation Management – is the capability of managing innovation-related business processes. It enables the company to generate, identify, assess, and realize new products, services and processes facilitated or driven by digital technologies and management practices.
Transformation Capability – is defined as the holistic management of extensive, complex changes on which the organization's future success strongly depends.
IT Excellence – is the usage of new technologies (such as mobile connectivity, cloud computing, big data and social media) to enhance 'business technology' and, as a consequence, the business. This includes, but is not limited to, real-time insight into important company data, stability, agility, security and dynamic plug-and-play functionality.
Once a company has the appropriate skills for digital transformation it can pursue the desired Digital Transformation Goals.
Customer Centricity – is defined as the capability of focusing on the most valuable customers by using modern technologies. Thereby, one aims at reaching strategic advantage and increased long-term profits through the alignment of one's products and services with the wants and needs of the 'right' customers.
Effective Knowledge Worker – means that employees are the main resource for companies to be competitive. Areas of effective knowledge working are collaboration, work teams instead of hierarchies, knowledge sharing, coaches instead of managers, managing by objectives.
Operational Excellence – operational excellence means managing business processes in an organization, so that their performance is outstanding. It is a central capability for any organization that wants to compete. The objective of operational excellence is to realize efficient and effective business processes through continuous improvement and innovation.
Step 2: Understand the Digital Capability Maturity Model, presented here is designed by Axel Uhl; Lars Alexander Gollenia in his book Digital Enterprise Transformation (http://goo.gl/AKMRWZ) are based on the measurement principles introduced by CMM and support the analyses of digital maturity from a holistic 360-degree view.
The five maturity levels are

Step 3 Evaluate the maturity for each of the six Digital Capabilities from step 1
The Digital Capability Maturity Model supports the evaluation of the as-is situation in each of the six capabilities of the Digital Capability Framework.


This will give a good framework for Companies to understand and evaluate several factors to determine the best way to transform into a great digital enterprise.
Image Sources: "Digital Enterprise Transformation" http://goo.gl/AKMRWZ
Written by Shekhar Bhartiy