Digital Business Transformation Academy
Digital Business Transformation Academy
The Digital Business Transformation Academy is a 5-day training event to take place in London, United Kingdom between 18 and 22 September 2017. Senior managers and leaders who aspire to improve their digital business transformation capabilities will be exposed to a highly interactive training programme.
International professors, thought leaders, authors and highly accomplished CEOs and entrepreneurs will deliver an engaging blend of digital business transformation training.








[podbean resource="episode=3wtz3-6c378c" type="audio-rectangle" height="100″ skin="1″ btn-skin="103″ share="1″ fonts="Helvetica" auto="0″ download="0″ rtl="0″]
"We are privileged to have such an accomplished line-up of academic and business leaders collaborating in this inaugural Digital Business Transformation Academy event. With registrations from KPMG, Cognizant, CapGemini, Cambridge University and other leading organisations, the event promises to be an outstanding learning and networking experience for digital economy professionals who are investing in their future success".


Rob Llewellyn
CXO Transform
Eight Training Modules
Module 1: Digital Trends and Technologies
Module 1 will provide a comprehensive overview of the most important digital trends and disruptive technologies. Automation, digitisation, personalisation, intermediation, virtualisation are some trends to be described with real world examples for different industries and organisations. Disruptive technologies like big data, cloud, mobility, IoT, robotics, 3-D printing, artificial intelligence and many more will be explained and existing and future scenarios for practical application described. The technology evolution model helps to assess the impact of new technologies for different industries.
Module 2: Digital Business Models and Strategies
Here we will focus on the most relevant and latest digital business models. Those models will serve as a blueprint for the analysis of new revenue streams, products and services that (your) company can choose to survive in the digital world. Well known business models and examples provide a wide variety of options to develop ideas and prototypes and most of the benefits and risks are already known. The participants will jointly works on the transfer of blueprints into their own business world and industry.
Module 3: Digital Marketing and Communication
Communication and marketing play an increasing key role in the digital world, but organisations should provide more than just noise to differentiate in the global market. Personalisation, experience and transformation are key trends to gain new customers and keep existing ones. Content marketing, programmatic advertising, social media marketing will help to translate noise into signals, novelty, insight and last but not least reputation.
Module 4: Digital Capabilities and Roadmaps
After defining defining digital strategies and business models, organizations need to analyze which digital capabilities they have to develop to successfully implement their strategies. The digital capability model is a proven framework that includes digital capabilities and maturity models as well as digital use cases for different industries incl. banking, insurance, logistics, telecommunication, healthcare etc.
Module 5: Cybercrime Protection and Detection
Cybercrime is the fastest-growing area of crime. More and more criminals are exploiting the speed, convenience and anonymity of the Internet to commit a diverse range of criminal activities that know no borders, either physical or virtual, cause serious harm and pose very real threats to victims through the world. This training module will provide you with methods for operational and investigative support, protection and detection of cybercrime.
Module 6: Chief Information Officer Versus Chief Digital Officer
In the past, IT was seen as a business strategy translator, and CIO's had the task to transform business requirements into a stable, high-performance IT solutions. They were rarely involved in strategic discussions about business models, markets and products, and even less involved in the decision-making processes. Today, many companies are looking for new digital business models, more automation, a better better understanding of customer needs and products that open up new potential of use through technology. What does this change mean the CIO role? And are these CIO's prepared?
Module 7: Robotic Process Automation
The shift to robotic process automation (RPA) which digitises labour through the use of advanced machine intelligence, will inevitably transform the working environment as we know it. When combined with developments in big data, analytics, social media, mobile and cloud technologies, RPA offers organisations immense new potential. You will learn how the RPA transformation has begun and how progressive organisations can benefit from dramatic productivity gains and cost reduction while also re-structuring their sourcing and resourcing models, and more.
Module 8: Bi-Modal Digital Enterprise Transformation
Traditional companies are more concerned than ever about how to transform into a digital company. Often the transformation is complicated by aging IT systems, the habits of executives and employees, a lack of understanding of the need for change, and insufficient know-how in the use of digital technologies. An alternative to conventional transformation is the establishment of ring agile "cells" e.g. In the form of start-ups, so that there are two parallel modes of training – a slow, complex tanker and a speedboat. What are the experiences with this model?
Four Keynotes
Digital Transformation in Banking
Digital Transformation of Berlin Philharmoniker Digital Concert Hall
Thriving in the Digital Transformation Jungle
Bi-Modal Transformation with App Development and IoT
Trainers and Speakers
Professor Dr. Axel Uhl | Zurich University of Applied Sciences
Axel leads the Center of Competence for Digital Enterprise Transformation at the Zurich University of Applied Sciences in Switzerland, and has been a significant Thought Leader for digital transformation for many years. He was global head of the SAP Business Transformation Academy for more than 7 years, where over 1,000 Managers and Senior Consultants were trained in his business transformation management methodology and Digital Capability Framework. He is the author of multiple books on transformation and advises executive leaders throughout the world.
Rob Llewellyn | CEO of CXO Transform
Rob is the founder of the CXO Transform digital education platform, CXO Weekly and the Digital Business Transformation Academy training. As an independent consultant he has provided advice and guidance to global brands on how to take commercial advantage of technology since the 1990's. His clients have included SAP, DHL, Unilever and hundreds of others. Rob is a digital transformation trainer, speaker, and evangelist of responding appropriately to the threats and opportunities the digital economy presents. He was ranked by Onalytica as the 3rd most influential digital transformation individual.
Matthias Kröner | Chairman and CEO of Fidor Bank
Matthias is the Founder, CEO and Chairman of one of the world's first Fintech banks 'Fidor Bank AG' and former Chairman of DAB Bank. He is one of the pioneers of innovative digital banking, which attracts digital-savvy customers, including those who are tired of the old banks that don't listen. In 2016, France's second largest bank, Groupe BPCE, announced the acquisition of Fidor, where Matthias continues to hold the Chief Executive office.
Robert Zimmermann | CEO of Berlin Phil Media
Robert has extensive experience as a CEO who leads the digital transformation agenda. His deep knowledge of the media industry and digital trends enabled him to lead the outstanding transformation of The Berliner Philharmoniker Digital Concert Hall. He has contributed to other transformation success stories at Lufthansa and the World Bank.
Monika Josi | Head of Cybersecurity at AXAS
Monika is Head of Group Security Consulting at AXAS AG, a member of the COCUS Group. She addresses cybersecurity strategies for global players, analysis of national cybercrime and cybersecurity strategies as well as designing cyber capacity building programs and national cyber strategies. She is a founding member of the CyAN cybersecurity think-tank.
Homan Haghighi | Robotics Evangelist at ISG
Homan is a Robotic Process Automation evangelist who graduated from London Imperial college in 1986 to specialise in Networking and Artificial Intelligence. In 2007 founded a start-up RPA software company, and now helps ISG to drive RPA into businesses – as well as bust some of the myths and hype that exist around automation.
Arjo van Oosten | Global Director, Digital Transformation at Mendix
Arjo leads the Mendix Digital Execution Practice, offering practical, hands-on guidance to develop core capabilities for digital innovation, addressing key portfolio, people, process and platform considerations. Arjo and his team help design and deliver training, consulting services, workshops and best practices to guide customers through digital transformation.
Dr. Priya E. Abraham | Founder of Cyberconnecting | Author | Consultant | Strategist
Priya's background comprises anthropology, technology, and business, a combination essential to unlocking an organisation's unique culture for world-class execution. Priya has been leading multi-million-pound transformation projects mainly in the IT, telecommunications, energy, manufacturing and airline sectors in culturally and geographically challenging environments.
Digital Business Transformation Master (DBTM) Certification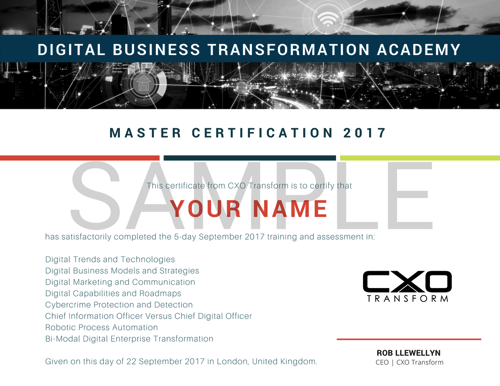 Participants will prepare and present exercises for assessment and successful candidates will be among the first in the world to receive the Digital Business Transformation Master Certificate.
The Digital Business Transformation Master Certification will demonstrate your digital economy management and leadership knowledge and add credibility to your professional profile and set your apart from the crowd.
Venue: London Heathrow, United Kingdom
Share this post with your network